Mike Tyson (54) spent Good Friday visiting Cecilia Brækhus (39) and UFC champion Francis Ngannou (34) on his much talked about cannabis farm in California.
Published:Less than 40 minutes ago
On Easter evening, she posted a picture on social media posing with Tyson and Ngannou. The latter became the UFC's new heavyweight champion last weekend when he won by knockout against Stipe Miocic.
«What a treat! Yesterday I got a tour of the Tyson Ranch, and then a sneak peek behind the scenes of his business empire. Then I met the legend myself, and @francisngannou after the recording. Thanks to Team @miketyson !! » wrote Brækhus together with a picture of the three on Instagram.
– I train with Peter Lee Thomas over here. He is Halle Berry trainer and stunt coordinator. He trains at Tyson's ranch and knows Tyson's coach well. He wanted to put us all in touch, so I can work out at the gym there whenever I want, Brækhus writes in a message to VG.
also read
The UFC champion's dangerous journey to the heavyweight throne
Mike Tyson, along with the late Muhammad Ali, is the most famous professional boxer of all time, and he had the heavyweight title several times in the 80s and 90s.
Brækhus has met Tyson on several occasions in recent years.
– There is always a lot of jokes and laughter. This time he thought me and Francis Ngannou should "produce super martial arts babies", writes Brækhus.
2017: VG met Mike Tyson at work in Las Vegas
From January 1, 2018, marijuana was legalized for adults over the age of 21 in several US states, including California. That same year, Tyson, along with several business partners, embarked on "Tyson Ranch" on a 40-acre farm in California City, north of Los Angeles.
– You got to see what is produced there – how special is it?
– It was very special, and especially since marijuana is banned in Norway. Here is a whole business built around it.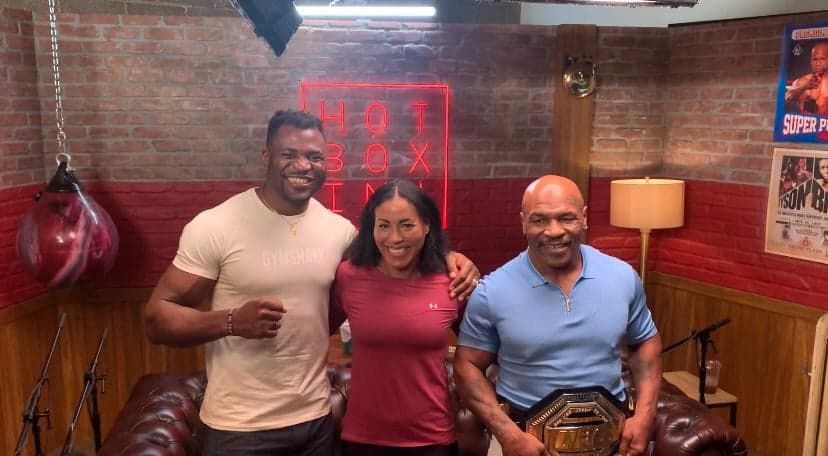 also read
Brækhus lost the return match against McCaskill – wants a new match
In recent years, in addition to cannabis production, Tyson has run the podcast "Hotboxin with Mike Tyson", where he has had a number of celebrity guests. Tyson often smokes marijuana during filming.
On Friday he had a recording with Ngannou, and Brækhus met the two after that session.
– Did Tyson take "a blow" while talking to him?
– He enjoyed himself with a blow, yes.
Brækhus recently lost for the second time against Jessica McCaskill, and is no longer the world's best female boxer regardless of weight class. She signaled immediately after the loss that she wants revenge, and wants to go more matches. But since then, she has said minimal about the future.
– I train and stay in shape, Brækhus is a short answer to VG's request for plans ahead.
She has been on holiday in Miami until recently, but is now back in California where she has had large parts of the run-ups to her recent matches.
Get the latest news delivered to your inbox
Follow us on social media networks